Type 5 - beta polars
Updated May 10, 2021
------------------ WORK IN PROGRESS ------------------
Type 5 "beta polars" are analog to type 1 but with a non-zero sideslip angle.
The wake is defined by flat panels aligned with the x-axis irrespective of the angle of attack and sideslip.
As with Type 1, 2 and 3 analyses, the calculations are performed by solving first for unit solutions corresponding to each of the 6 degrees of freedom in motion, and then by building the solution for any operating point by linear combination of the elementary solutions.
Only fixed speed analyses are enabled.
Test case
The test case is the simple 1.5 m span fictitious plane illustrated in the image on the right.
To keep the comparisons with AVL relevant:
The fuselage was not included in the model. This is an important simplification in the case of sideslip analyses, since the fuselage usually induces side lift as well as rolling and yawing moments.
All flow5 analyses are inviscid. This means that the moments induced by the viscous drag forces are not taken into account. These moments may not be negligible compared to the moment of inviscid forces.
The corresponding flow5 and AVL project files can be downloaded here.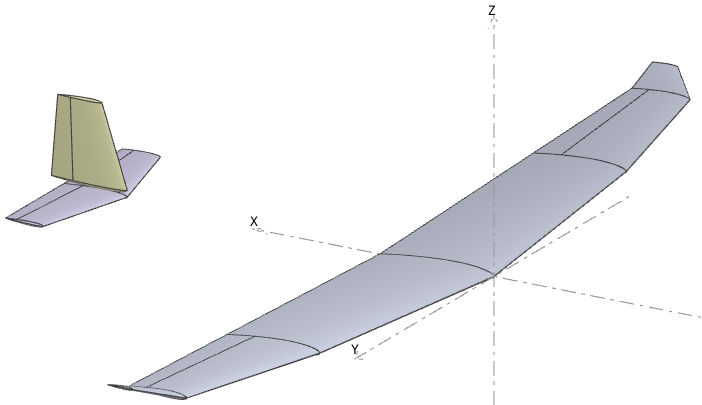 Sanity check: Type 1 comparisons at β=0°
The purpose of this first run is to check that the analysis setups are the same in flow5 and AVL.
Type 5 predictions at α=0°
Type 5 predictions at α=7°
Main observations:
There is more scattering of the results in the case of sideslip analyses than there is in the case of T1 polars.
The correlation with AVL predictions is reasonably good.
Sensitivity analyses not represented here have shown that the evaluation of the rolling and yawing moments is sensitive to the mesh density. The reason seems to be the higher pressure gradients which arise with sideflow and which require finer meshes.
It is therefore recommended to use fine meshes for the tail in the case of T5 analyses.
Test case
The experiments and the models are detailed here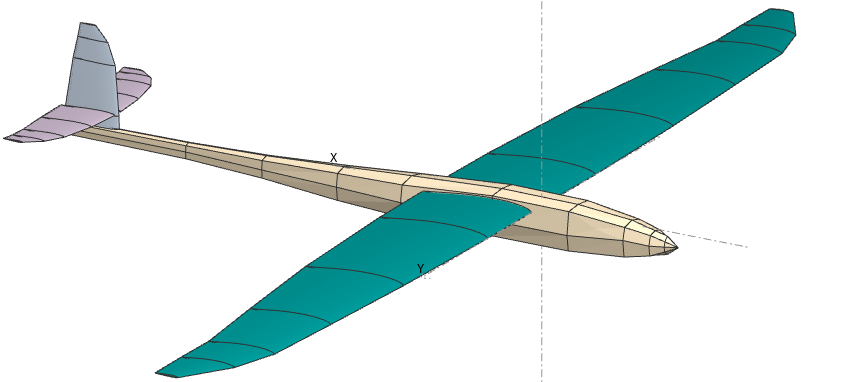 Predictions at α=2°
Predictions at α=6°
Main observations
The wind tunnel measurements of the rolling moment are the ones which exhibit the greatest scattering. This may be due to the small value of the measured moments, and possibly to the unstability of the flow around the plane.
Both the T5 and T6/VPW predictions are in reasonable agreement with the measurements. The T6 analyses tend to me more accurate as the angle of attack and the sideslip increase.
Back to top
---
The predictions of T5 polars with non-zero sideslip are in reasonable agreement both with AVL predictions and with wind tunnel test results.
The analyses with sideslip require finer meshes at the tail to help improve the evaluation of lateral pressure forces.
The predictions with sideslip are more scattered than in the case of T1 and T2 analyses.
T6 flat wake analyses, not presented here, should be avoided due to the detrimental interactions of wake and body panels; the recommendation is to use the Vortex Particle Wake instead.
Back to top
---